WELCOME. Our domain is the children's photography and graphics. We use techniques such as photomontage, retouching, artistic photography and computer graphics. We offer the creation of unique graphics with your child as main character. We make pictures and graphics of children in any setting, theme, style, with favorite stuffed animals, toy, character, pet. Your child may be in a setting similar to ones presented here or we would create completely new and unique scenery.
Welcome to the world of illusions and dreams that became true. We invite you to explore children's world of fairy tales, kingdom of neverending happiness. We open before you the gates of youth where you can live in the nest of colorful teddy bears, friendly pets, giant flowers, where your imagination has no limits.

Photographic sessions
We offer professional photo sessions:

Outdoor photo sessions: when the weather is cooperative we recommend outdoor sessions.

Studio photo sessions.
Photo sessions at home: we prefer to do photo shoots in your home.

Photomontage
Images incorporated into the available graphics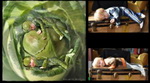 Photomontage is our domain. Your child can be shown as a main character of any one of the graphic presented on this website or in a completely new and unique landscape.
Your child can become the hero of a fairy tale, a wonderful journey, a magical world of fantasy or favorite movie.
Original gift; Our graphics are perfect for a gift as a picture-portrait in a frame, print on a t-shirt or a mug, movie poster on the wall. In couple days we can fix your problem for the gift, simply order a Birthday photo.
Movie poster, illustration, selection of interesting posters pictures of current movies, old movies, posters or posters of socrealism. The poster may inform about the date of the event, present people as actors, you can be in the picture with the famous celebrity or politician.
Photos for the profile, an Avatar, Facebook or LinkedIn profile photo. We offer original portrait that will surprise anyone, such as your face blended into the animal, flower, celebrity, etc.
We also create graphics for special ocassions: from baptism, first communion, weddings, birthdays, class pictures, groups of employees, etc.
Portrait, you can create a unique portrait of a famous character or your favorite image (Mona Lisa, painting by Klimt). Have it printed on canvas!
Our photo montages are of high quality (high image resolution) and can serve as a basis for large-format posters, posters, paintings on canvas / panel or on glass. The graphics are adapted to room style, color, frame style. The advice of the interior designer-free.
We create Christmas cards, custom greeting cards, weding invitations that you can print, mail or e-mail.